Getting caught while undocumented wasn't the worst part of your journey, however. That'd be the actual journey. It takes a special kind of monster to turn a banana boat trip to Mexico into a crime against humanity, but the Border Patrol managed to do so with aplomb. The two-day long journey back to Mexico often saw the deportees crammed into small vessels without any protection from the sea or Sun, or wedged into the cargo holds of ships. In 1956, during one such voyage, a riot erupted in which seven deportees drowned. When Congress investigated, they said the travel conditions resembled those of an "ancient penal ship" -- which is a boat to transport prisoners and not, as it may sound, a boat shaped like a giant penis. Five hundred workers were stuffed in the bowels of a ship with only enough lifeboats to carry 48. Worse yet, there are plenty of reasons to believe that had the ship sunk, the Border Patrol still would have claimed they had successfully deported 452 immigrants -- the fact that they deported them to the bottom of the ocean would have been a technicality that went unmentioned.
But the worst part about Trump's love for Operation Wetback is that it means he doesn't even understand why it had an impact. The immigration plan was, in fact, two-pronged. The "send them back" hard-ass military approach didn't work that well (and didn't do the country any favors, reputation-wise). The true success came in its less-publicized dealings, wherein the U.S. and Mexican governments worked together to curb illegal immigration by making legal immigration easier. Most of the undocumented immigrants "stamped out" by the disgustingly named operation weren't deported; they simply "disappeared" by becoming full-fledged American citizens.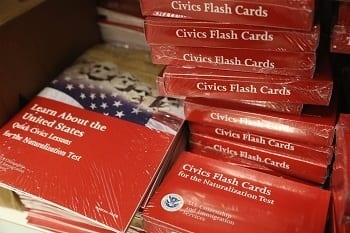 John Moore/Getty ImagesWho actually knew some stuff about the country they lived in.
None of that even matters, however, since the kind of immigration Trump wants to solve is completely different from what it was 60 years ago. Back then, most undocumented immigrants were seasonal workers who would routinely make trips back and forth from Mexico. Today, most undocumented immigrants live and work in America full-time, and roughly 80 percent of them pay more taxes than the president-elect has in decades. But they weren't born in America, so fuck them.