After all, Batman does comment on how few people stayed good after 20 years in Gotham. That level of cynicism can be expected after watching his apprentice morph into everything he hates. Also, it does sort of look like Leto's Joker has tattoos covering up the spots where Robin's armor was shot (right shoulder, below the ribcage).
Warner Bros.

He also has a tattoo of a bird that could be a robin, and a J on his face that could stand for "Jason" as in "Jason Todd," the second Robin that, in the comics, has a history of becoming a crazed murderer.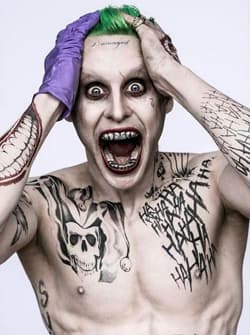 Warner Bros.
Much like Jared Leto, we're pretty sure
Now, it's true that the film's director has shot down this theory, but then again, J.J. Abrams swore up and down that Benedict Cumberbatch wasn't playing Khan in Star Trek Into Darkness, so what would you expect him to say?