The problems began when a Paramount employee went around offering businesses $100 for the inconvenience of having their workplace turned into the scene of a robot fight. Two brothers running an appliance store felt this was insufficient and demanded $13,000 instead. When their counter-offer was rejected, they called some local toughs and started making a ruckus using bricks, metal carts, and loud music.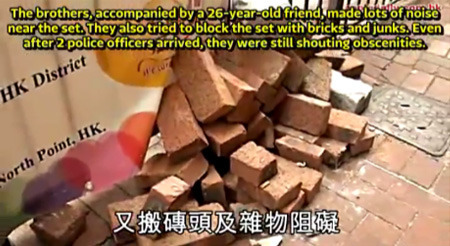 Apple Daily
"You think senseless noise and destruction bother me? Do you even know who I am?"
When Bay told the brothers he wasn't paying shit, they returned an hour later with one of them wielding a "long air-conditioner unit," Bay wrote, because Hong Kong is apparently always on the verge of breaking out into a wacky martial arts fight. We'll let him describe the next part, because he makes it sound like it's a scene from his movies and he's the Shia LaBeouf character:
Michael Bay
There's even pointless product placement.