And then there's "butterfly," which doesn't seem to fit in with the other names at all. How did such a delicate creature -- one which in no way resembles a flapping stick of butter -- get such a name? (See "we name things after food," above.) Well, one clue lies in the fact that Germany calls them schmetterlings (a word derived from "cream"), stemming from the old-timey folk belief that butterflies were secretly witches in disguise, out on the prowl to steal people's fucking milk, because Germany is insane. More directly, according to the Oxford English Dictionary, the name finds its roots in the Old Dutch word boterschijte. Guess what it means.
The Silly Origin:
We know it looks like a mouthful, but try to sound it out. Boterschijte. Chew on it for a moment. Did the jumbled mess that poured out of your mouth sound an awful lot like "butter-shitter"? If so, congratulations! You are now an expert in Old Dutch.
As you may or may not be aware (and if you are, we really must question your choice in hobbies), butterfly poop bears a striking resemblance to butter.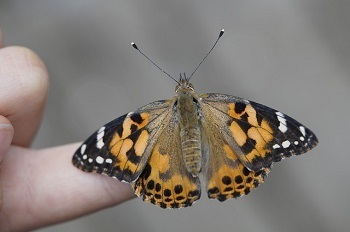 Efrainstochter / pixabay
I Can't Believe It's Not Insect Poop! was somehow rejected during product name meeting.
Europeans living during the early Middle Ages took some time away from catching the plague to notice this, and thus the name boterschijte was born, later to be replaced by botervlieg (butterfly). Regrettably, the trend of naming creatures after what their poop looks like did not catch on. Otherwise, the world would be a much more entertaining place.