Then he found bassist Paul Simonon, who wasn't even a musician. Simonon had tried out for the job of vocalist, only to have Rhodes slap a bass guitar in his hands, and he was so out of his depth that they had to put stickers on the guitar to help him find the notes.
Rama/Wiki Commons"Shit, is it 'happy face bear' for A-sharp and 'great job Sun' for D-flat or the other way around?"
Finally, Rhodes found singer Joe Strummer, who was going by the name "Woody" Mellor. John Graham "Joe 'Woody' Strummer" Mellor was the front man of a hippie-ish pub rock band, The 101'ers, which featured a saxophone, a harmonica, a fiddle, a big pile of songs about heartbreak and partying, and a look that was less proto-punk icon and more "What do you mean I'm cut off? I'll cut you off. Aw, wait, I don't mean that. Gimmie a hug."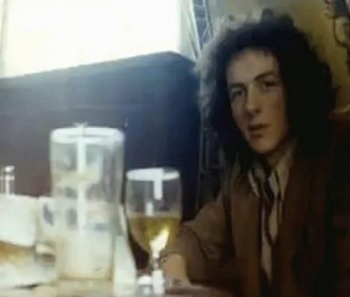 Julian Leonard YewdallIf not for his insistence on keeping all of his teeth, he could've been the next Shane MacGowan.