Finally, Rhodes found singer Joe Strummer, who was going by the name "Woody" Mellor. John Graham "Joe 'Woody' Strummer" Mellor was the front man of a hippie-ish pub rock band, The 101'ers, which featured a saxophone, a harmonica, a fiddle, a big pile of songs about heartbreak and partying, and a look that was less proto-punk icon and more "What do you mean I'm cut off? I'll cut you off. Aw, wait, I don't mean that. Gimmie a hug."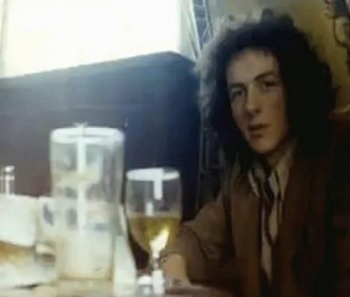 Julian Leonard YewdallIf not for his insistence on keeping all of his teeth, he could've been the next Shane MacGowan.
Bernie had the boys cut ties with their past, made them cut and spike their hair, and replaced their frilly blouses with ripped up and safety pin adorned T-shirts. Bernie also provided them with reading lists ranging from philosophy to modern art to fire up their imaginations, because nothing says punk like homework.
So, where Strummer was writing rockabilly love ballads such as "Keys To Your Heart" and "Letsgetabitrockin," and Jones was putting out equally hard-hitting political diatribes such as "1-2 Crush On You" and "I'm So Bored With You," Rhodes had the newly formed Clash rework that last one into the anti-American "I'm So Bored With the USA" and then insisted the ideas were coming from the youngsters and not their old-man manager. For all its grandstanding, punk was constructed and marketed just like pop music, with each "shocking" stunt and song intended to cause outrage. This is why you could go to London and pay to have your picture taken with some of those crazy punk kids.