Everybody makes fun of the USA for being so lawsuit-happy -- "Those guys will sue if the coffee is too hot!" But we didn't start this fire; ancient Athenians were similarly infamous all around Greece for their tendency to phone (or ... falcon, we guess?) their lawyers at the slightest provocation.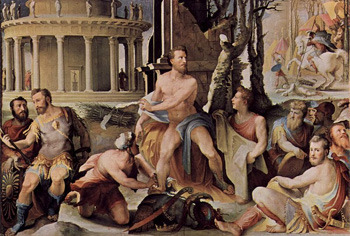 Domenico Beccafumi
"People walking around with no pants? Falcon us!
People forcing you to wear pants? Falcon us! We'll fight for YOU!"
The Athenians were so inundated with lawsuits that they had a special term, sukophantai (the origin of the English word "sycophant"), for the sort of person who litigates if you look at them funny. Like in the US today, they were widely mocked in popular culture, and people would often publicly accuse their opponents in court of being sycophants in order to sway the juries. Technically, Athenians could even sue someone for being a sycophant, though to our knowledge, no one ever did, possibly because the condensed irony would have formed a black hole and devoured them all.
The tide of ludicrous lawsuits was partially due to Athens not having any designated public prosecutors. As a result, any citizen could sue someone on behalf of the city. Luckily, Athenian juries probably didn't mind all this rampant legal douchebaggery too much. After all, they were paid for each case they voted on.