Fine, almost never.
The Disturbing History:
Affable old Minneapolis, the Phil Coulson of US cities, beat Hitler to large-scale antisemitism by over 50 years. The first documented Jewish-bashing incidents in Minneapolis stretch back to the late 1800s, when Jews would get kicked out of public transportation and attacked by gangs in the street. It was basically downhill from there.
Ever notice how, aside from the aforementioned Purple One, the population of Minnesota is as white as its snow? It turns out that's, uh, kind of by design. Today, we have some wonderful laws on the books that prevent discrimination when it comes to housing, but prior to the enactment of those laws in 1968, Minneapolis landlords were kicking Jews to the curb like the weekly trash pickup. Phrases like "Gentiles preferred" could be found in housing and "help wanted" ads as recently as 1942, and the law didn't give much of a shit.
Minneapolis Morning Tribune
This guy was fined $100 for the lack of chill, though.
Shockingly, Hitler and World War II didn't help things. The Silver Shirts, a pro-Nazi group originally shat out of North Carolina, had one of its largest chapters in Minneapolis, thanks to the anti-Jewish sentiment in the city. One of their meetings there was attended by a member of the Minneapolis School Board and the president of the Associated Industries of Minneapolis. Mind you, this wasn't your average fascist get-together -- these guys believed the Pyramids of Giza predicted a Jewish world-conquering conspiracy. In the end, it took a combination of teamsters and gangsters to kick the group out of the city ... presumably by giving them wedgies, because check out how these losers dressed: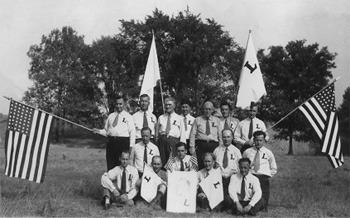 via netteandme.blogspot.com