This guy was fined $100 for the lack of chill, though.
Shockingly, Hitler and World War II didn't help things. The Silver Shirts, a pro-Nazi group originally shat out of North Carolina, had one of its largest chapters in Minneapolis, thanks to the anti-Jewish sentiment in the city. One of their meetings there was attended by a member of the Minneapolis School Board and the president of the Associated Industries of Minneapolis. Mind you, this wasn't your average fascist get-together -- these guys believed the Pyramids of Giza predicted a Jewish world-conquering conspiracy. In the end, it took a combination of teamsters and gangsters to kick the group out of the city ... presumably by giving them wedgies, because check out how these losers dressed: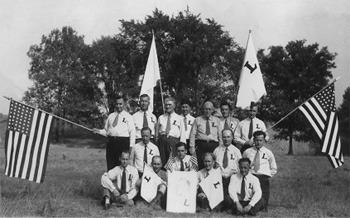 via netteandme.blogspot.com
Actually, it looks like their pants are already giving them wedgies.
Even after America thumped the Axis Powers, Minneapolis still saw itself labeled in 1946 as "the capital of antisemitism in the United States." Eventually, they got their shit together, presumably when they realized that wasn't the best motto for a city.