Lord help you if you're in Spain, but at least you can
blame your low productivity on Hitler.
This creates a problem for people in the western part of the time zone, because they are going by the social clock rather than the sun. People are not asleep by the time they were programmed to be asleep, which puts them in a permanent state of social jet lag. It seems like a minor thing, but as you're going to learn in this article, it doesn't take much to turn you from a healthy person into a sleep-deprived zombie.
The solution is fairly simple: Get off all clocks immediately, quit your job, and move out into the wild. Don't bring any food or water; the land will provide for you. Cracked is not liable for any damages caused by your impulse decision to live in nature.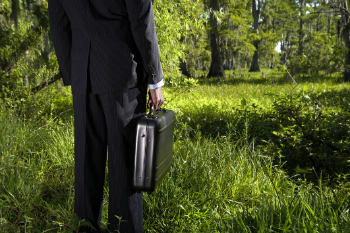 James Woodson/Digital Vision/Getty Images
"Damn ... didn't think about the porn."