Jeff Goldblum voiced a giant rat-man mutant drug-peddler named Verminous Skumm, and we know we should be totally surprised by that, but it actually strangely fits with Goldblum's other role choices.
Hell, even Sting had a stint on the show, voicing a bondage-geared space alien named Zarm and -- wait, what? Holy crap, how badly does everybody want to go back and watch Captain Planet now? That show was apparently way crazier than our childhood brains could process.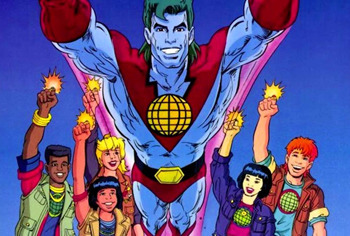 Turner Program ServicesThat's all for today, Planeteers, but tune in next time for Malcolm McDowell, Whoopi Goldberg, Ed Asner, Phil Hartman, Phyllis Diller, Danny Glover, Neil Patrick Harris, and Elizabeth fucking Taylor. Seriously.