We mean it this much: "Nude Sir Ben Kingsley getting to second base with a squid."
The ad campaign convinced far more celebrities than you might imagine to get photographed having sex with fish. For example, if you're a fan of Gotham, you and your terrible taste deserve to see that show's Sean Pertwee penetrating this monkfish: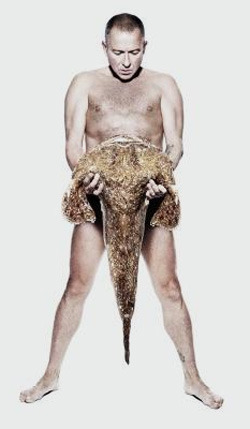 Fishlove
"Oh, my ... young Master Bruce, I was not expecting you home so early."
The group responsible, Fishlove, says these poses are supposed to look like a "mother and her baby." Well, we don't know what kind of family photos they took as children, but let's look at another photo from their campaign. Here's Mick Jagger's daughter straddling a tuna:
Fishlove