Each lake can change its color completely at any time, independently of the other lakes. The various hues range from light to navy blue, deep teal, and even yellow, brown, or red, stiffly occupying most of the Power Rangers color wheel. These massive, natural mood rings are most likely caused by underwater fumaroles, which are cracks in the Earth's crust that emit volcanic gases. However, similar volcanic lakes have fairly predictable patterns of color variation. The Kelimutu lakes, on the other hand, change color whenever they damn well please. It's a different scene every time researchers arrive at the lakes, and so far they have been unable to explain or predict it. The fact that the lakes are so close together makes their independent flavors all the more mystifying.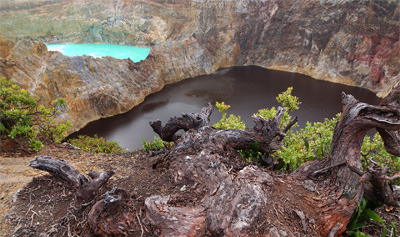 Rosa Cabecinhas
A million people pooped in this one. Why? That's the mystery.
Don't let the lakes' beauty fool you, though. In addition to being highly acidic, the lakes have been the site of phreatic eruptions in the past, a phenomenon in which volcanic activity instantly vaporizes the water, causing an explosion of steam, acid, and dislodged skeletons at the surface. So if you do plan on making a trip out to observe their bizarre majesty, make sure you don't actually stand anywhere near them.
Neil/Wikimedia
RIP, Kermit and Rowlf.