The Weird Version:
Medieval zoologists (who rarely studied actual animals and basically just jotted down any insane rumor they heard from abroad) documented a bizarre cousin of the unicorn called a bonnacon. It's kind of like a unicorn except it has two horns (a bicorn?), and also it fires burning poop.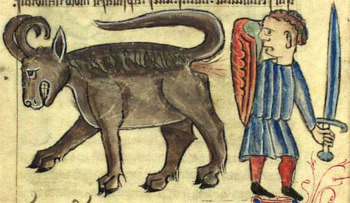 Kongelige Bibliotek
"Apparently, the 'unicorn' part comes from eating only corn."
The bonnacon was described by Roman naturalist Pliny the Elder as being similar to a horse or a bull with two inward-pointing horns. And because the horns aren't ideal for fighting, the beast had a different strategy for self-preservation -- it could fire its own shit at you at an alarming velocity, and said shit was so acidic that it could burn like fire on contact.
Also, if illustrations of the time are anything to go by, the bonnacon was just as embarrassed about this as everyone else.
Aberdeen University Library
Acidic poo burns pride too.