In this case it's endlessly bleeding while giving you occasional side-eyes, like you're the weirdo. Since the game doesn't register these husk people as "alive," they can't be killed. Attacking them is like trying to fight one of those wacky inflatable tube men inside the Matrix.
Bohemia Interactive
"You cannot defeat me. I shall claim your soul for Frank's Discount Tires and Brakes."
These "soulless players" are encountered in all sorts of unusual situations that make you wonder what could have possibly been happening before they disconnected. In the above example you can probably come up with some sort of combat scenario, or maybe a ritualistic murder/suicide gone wrong. But what was this guy doing standing in a field with no pants and a fire extinguisher?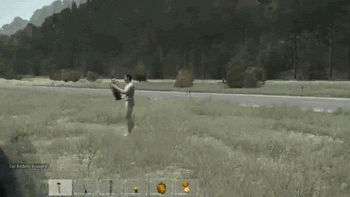 Bohemia Interactive
The answer to that could be the scariest thing of all.