John Daggett, a wealthy Gotham businessman, teams up with Bane to take over Wayne Enterprises in order to give the supervillain access to the company's fusion reactor and himself access to a slightly bigger pile of money and models. First, they hire Selina Kyle to acquire Bruce Wayne's fingerprints, which Bane and his henchmen later use during an attack on the Gotham Stock Exchange to access Bruce's account and make some catastrophically bad investments on his behalf. The transactions wind up bankrupting Wayne Enterprises, so the board of directors is forced to remove Bruce.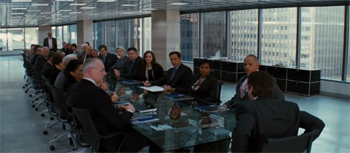 "Now take your $40 million severance and go."
The Idiocy:
Lucius Fox tells Bruce that they'll probably be able to prove fraud in the long term, but "long term" should really translate to "two minutes worth of research." An investigation is going to find it highly suspicious that Bruce's bad trades just happened to take place at the exact same time that a bunch of armed men stormed the Stock Exchange, dicked around on the computer for a few minutes, and then left.

"I would've used eTrade, but it just doesn't feel like villainy without the cowering and the gunfire."