He had the skills for it. Where many actors will wait tables, work as studio go-fers, or perform one of a hundred other degrading jobs while waiting for their big break, Buscemi took the less-traditional route of becoming a New York City firefighter. He did that until 1985, when he started getting gigs that didn't involve running into gigantic open flames on the regular. But he never forgot his roots, and this was never more evident than on September 11, 2001.
Many celebrities "helped" after the terrorist attacks by organizing fundraisers, handing out water and coffee, or recording horrible music that was no less horrible just because it was "for the heroes." Buscemi, again, bucked the trend by going right back into firefighter mode, returning to his old firehouse and volunteering for service. Right alongside the decidedly non-famous crew of FDNY Engine 55, he busted ass for up to 12 hours at a time, shoveling out debris and rubble and pulling survivors out of the wreckage. Countless people who might otherwise have perished can now say, without hyperbole, that Mr. Pink saved their lives.
Via Indieking.com
They later repaid the favor by being literally the only people to go see Burt Wonderstone.
There's a real good chance you didn't hear about this in the aftermath of the attacks, but it's not because the media ignored it. Rather, Buscemi wanted us to ignore it. He refused to talk about it in interviews, simply saying, "these are my brothers." He showed absolutely zero interest in turning his duty into a publicity stunt. That's why there are only a couple of pictures of Buscemi hard at work; here, he's the dapper chap in the upper-left corner.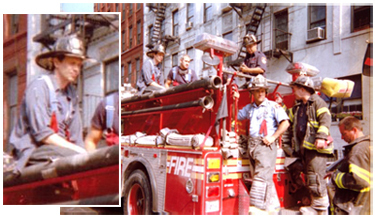 Via Indieking.com
"Everyone ignore Jim; he's pretending to pose for beefcake calendars again."