There's a real good chance you didn't hear about this in the aftermath of the attacks, but it's not because the media ignored it. Rather, Buscemi wanted us to ignore it. He refused to talk about it in interviews, simply saying, "these are my brothers." He showed absolutely zero interest in turning his duty into a publicity stunt. That's why there are only a couple of pictures of Buscemi hard at work; here, he's the dapper chap in the upper-left corner.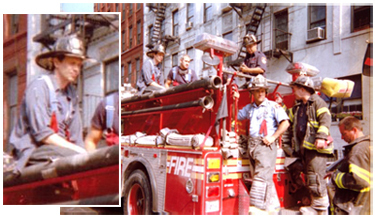 Via Indieking.com
"Everyone ignore Jim; he's pretending to pose for beefcake calendars again."
After 9/11, Buscemi went back to showing off his crazy eyes on the big screen, but he has never forgotten his firefighting roots, even when it gets him in trouble. In 2003, less than two years after 9/11, Buscemi's old firehouse was deemed useless by the NYC government and was slated to close. Buscemi showed up with a bunch of other firefighters to protest this decision, with the entire group ultimately arrested for their efforts. He continues to support firefighters and their struggles to this day, proving that he only acts because he's too old to work his dream job any longer.