And our Sherlock Holmes stand-in has his very own Watson, of course, who inexplicably dresses in bondage gear while he helps his boss get high with a gigantic needle.
Triangle Film Corporation
See the jar? And we bet you didn't believe us.
But because this isn't an Adam Sandler film, there's more to it than watching our hero goof off -- the Secret Service needs his help stopping a smuggling ring! Ennyday accepts the job and psyches himself up by literally throwing a pile of cocaine in his face.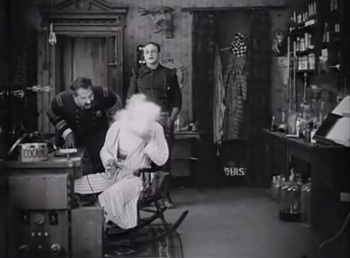 Triangle Film Corporation
"Let it snow, bitches!"
Our hero learns that "Japs" (1916 was also the heyday of casual racism) are behind the ring. It's not clear why he'd want to stop opium smugglers when at one point in the film he downs a bottle of laudanum like Popeye pounding back spinach, but maybe these early movies were more morally complicated than we give them credit for.
Triangle Film Corporation
He's using his hands to shovel opium into his mouth, because junkies don't have time for forks.