The cocaineman can 'cause he mixes it with love and makes the world feel good.
And our Sherlock Holmes stand-in has his very own Watson, of course, who inexplicably dresses in bondage gear while he helps his boss get high with a gigantic needle.
Triangle Film Corporation
See the jar? And we bet you didn't believe us.
But because this isn't an Adam Sandler film, there's more to it than watching our hero goof off -- the Secret Service needs his help stopping a smuggling ring! Ennyday accepts the job and psyches himself up by literally throwing a pile of cocaine in his face.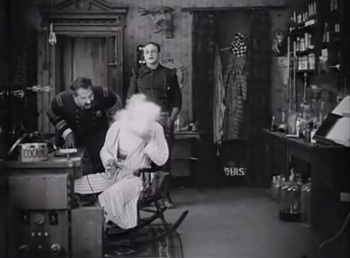 Triangle Film Corporation