The Fallout:
More than 450 high-risk, violent criminals were plopped out onto the unsuspecting streets, as well as an additional thousand or so deemed likely to traffic in drugs or wreck people's property. So ... time for the cops to get to work rounding these guys back up, right?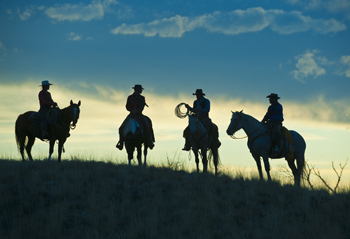 Tetra Images/Tetra images/Getty Images
"Can't you just get a posse together? It's taco night."
Nope! That's the best part: Even though the glitch was eventually identified, the California legal system couldn't do a damn thing about those who had already been released. See, this computer system was nothing if not thorough in its glitchiness -- in addition to releasing the unreleasable offenders, it had also placed them on the "non-revocable parole" list, meaning that they never had to check in with a parole officer and could only be reimprisoned if they were caught, say, murdering someone. You know, in addition to however many someones they had already murdered to get thrown into prison in the first place.
It doesn't take a master's degree in criminology to see that this situation was not destined to turn out well. Take Javier Rueda, a documented violent gang banger who had been placed on non-revocable parole: He went down in a blaze of glory when police tried to pull him over for a DUI. One officer was shot but survived; another officer received a fracture (the bullet didn't hit him too hard, we guess?), and Rueda himself arrived at the hospital in much the same manner as a Swiss cheese sandwich (in a baggie).
Sergiy Rudenko/Hemera/Getty Images
So, prison overcrowding still solved, right?
For those Californians keeping count, that means there are about 449 still out there. Sleep tight!