First of all, Tony openly admits to being Iron Man on national television. As far as the law is concerned, he might as well have announced that he had been smuggling weapons to Chinese pirates for the past seven years, because both are violations of the same set of regulations. Remember, there's a reason Bruce Wayne keeps his Batman hobby a secret: He knows that what he's doing is illegal as shit, billionaire or not. But Tony proudly confesses his criminal activities several times in the middle of a congressional hearing, then hacks into a few government computers (also a crime) and walks out of the courtroom flashing deuces. It's like he's daring the government to throw him in federal prison for a decade.
Marvel Studios
"Worked for Nixon."
After insisting that the Iron Man suit isn't a threat to national security as long as it remains in his carefully guarded hands, Tony proceeds to torpedo his own argument in Iron Man 2 by using the armor to drunkenly endanger people's lives at his birthday party and then fly, hungover, to eat doughnuts on top of another, larger doughnut.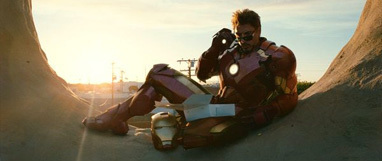 Marvel Studios
"It doesn't count as a DUI if you have access to wrist lasers."