This is not a still from some old "What if the Nazis win the war?" propaganda film. That is a real, undoctored photo of an American classroom.
You see, Hitler ruined several perfectly good things forever -- tiny mustaches, the swastika as a good luck charm, and all hand signals that look anything like the "Heil Hitler" salute. But Hitler didn't invent any of them.
For instance, in 1892, Francis Bellamy decided that your average American just wasn't pissing quite enough red, white, and blue. To counter this, he came up with the Pledge of Allegiance, along with a nifty little hand gesture to do while taking the pledge.
Wiki
... one nation, indivisible, with liberty and justice for all."
That's right: For decades, children across America happily heiled the Stars 'n' Stripes in what was then known as the Bellamy salute. Then along came this big, bald bag of dicks: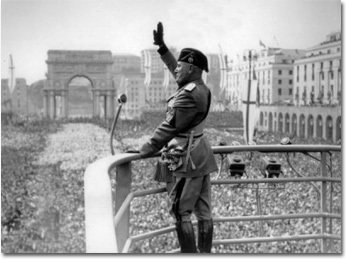 Wiki