Just gritting your teeth and flooring it isn't the answer.
However, the technology isn't the problem -- the necessary equipment to eliminate blind spots was around back when Henry Ford was still producing cars and anti-Semitic newsletters. All you need are your car's wing mirrors -- which most people have adjusted incorrectly.
You see, blind spots can be put into full view of your side mirrors, provided that these mirrors are adjusted to contain no part of your own car. Just angle them away from you until the point where your car is no longer visible in either one, and leave them there. That way, there's no overlap between them and the rearview mirror, and any car that's passing you on either side will remain in at least one of your mirrors until it enters your field of vision.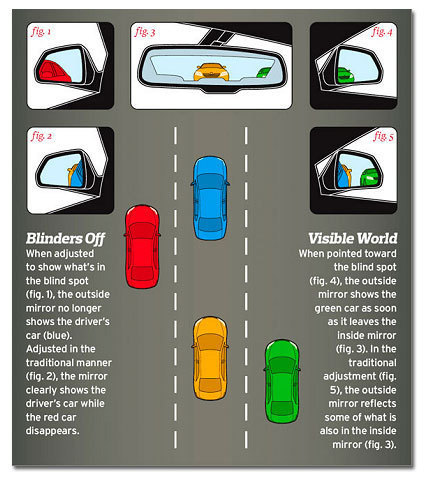 caranddriver.com