The tasteful lyrics go: "Give us your cash, bitch, so we can shoot up the street / Give us your cash, bitch, so we can buy some more heat." A great deal of the video consists of closeups of the pole dancer's jiggling posterior, which is stuffed with dollar bills and plastered with communist iconography. As they recite their jingle, the gangsters help themselves to the money on the dancer's butt.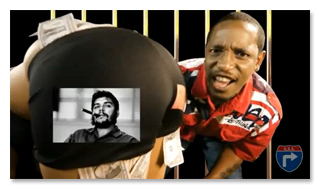 That's not how strip clubs work, people.
At random points in the ad, we are treated to brief, almost subliminal shots of the dancer's mugshot-stamped ass with even more inexplicable shit on the sides. The sideways writing on the wall is the only thing marginally related to the message of the ad here, but it's shown far too quickly for anyone to read it.

Most people will be too baffled by dancing girl C-3PO to notice it, anyway.
The video ends with one of the gangsters poking the jiggling butt with the barrel of his gun, at which point the dancer turns around and we see that she's ... holy shit, Councilwoman Hahn?

But ... why would she agree to act in this video? What sorcery is this?