But it gets much stupider. The reason why the Prodigy wants teenagers to get it on without protection is to create thousands of babies to take back to his home world of Intellectia for child labor, which will somehow aid them in conquering other planets.
Marvel
Our puny minds can't comprehend the transcendent genius of a giant baby snatch.
So, let's get this straight -- rather than simply using his persuasive powers to convince able-bodied teenagers to return to his home planet as slaves, the Prodigy planned to wait for at least nine months until the babies were born, then abduct the infants and wait for them to develop the necessary fine motor skills to perform child labor, all the while having to deal with middle of the night feedings and diaper changes. Which, according to Spider-Man, might be the worst part.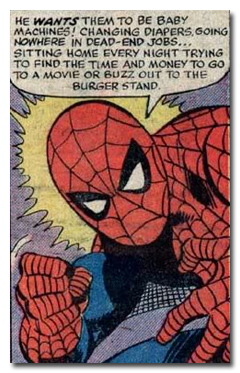 Marvel
It's not like the staffer who wrote this was bitter about where her life went or anything.