Now, before you go crazy over the possibility of literally recording your dreams, we clearly have a ways to go. But this at least serves as proof of concept, that we can actually transform mental pictures into video. It's just a matter of refining the process of defining which brain activity equals "I'm somehow competing in a spelling bee wearing only a jockstrap." Then we can put that shit straight up on YouTube!
It doesn't stop there; this process of breaking down how the brain works and building machines to interpret it will open up all kinds of weirdness. For instance, a team in the Netherlands has successfully invented a system that allows the users to type just by thinking the letters -- even if the user is comatose. They discovered that by asking a vegetative patient to imagine, for instance, herself playing a game of tennis, a certain area of the brain lit up. From there it was just a matter of training the patient to associate letters on a keyboard with certain thoughts, and using a machine to detect that activity. Boom -- you're now mind-typing.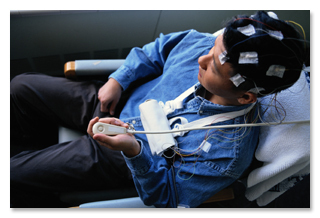 "Sir, you may want to tone down the fantasizing. Our nurses have filed a restraining order."