Pretty close, yeah.
How the Hell?
It was scientists at UC Berkeley who developed a way to literally see what your brain sees, and they did it by manipulating the magic of YouTube. They showed the subjects a bunch of movie trailers with electrodes hooked up to their heads, and computers recorded their brain activity. After that, they fed the computer millions of YouTube videos and asked it to compare what it had recorded with the millions of images of cats and people falling off bikes that they were showing to it.
The computer then selected the top 100 videos that best matched what popped out of the subjects' brains, and created a kind of composite image of what it thought it saw. The result, while not exactly Blu-ray quality, is pretty striking:
Now, before you go crazy over the possibility of literally recording your dreams, we clearly have a ways to go. But this at least serves as proof of concept, that we can actually transform mental pictures into video. It's just a matter of refining the process of defining which brain activity equals "I'm somehow competing in a spelling bee wearing only a jockstrap." Then we can put that shit straight up on YouTube!
It doesn't stop there; this process of breaking down how the brain works and building machines to interpret it will open up all kinds of weirdness. For instance, a team in the Netherlands has successfully invented a system that allows the users to type just by thinking the letters -- even if the user is comatose. They discovered that by asking a vegetative patient to imagine, for instance, herself playing a game of tennis, a certain area of the brain lit up. From there it was just a matter of training the patient to associate letters on a keyboard with certain thoughts, and using a machine to detect that activity. Boom -- you're now mind-typing.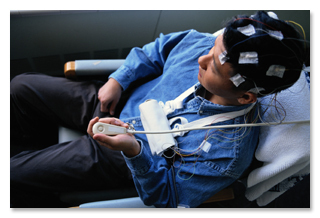 "Sir, you may want to tone down the fantasizing. Our nurses have filed a restraining order."