Thanks to braless hippies and better packaging technology, we're past the point where one sex is perceived as brighter than the other, right? Not if you watch truck commercials. Take this Ford F-150 ad, for example. Denis Leary's voice-over comes right out and says that the truck was engineered by the people "we all cheated off of in science class." As if science nerds would never actually be the ones interested in the F-150. They're too busy driving, what? Mathmobiles?
But you see, trucks are manly, and doing science and math are unmanly. You're not unmanly, are you? "What is that you're reading, a book? Oh, sorry, we thought you had a penis."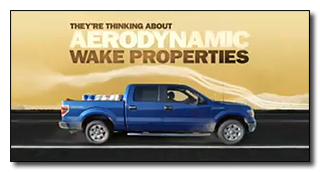 "Arrowdie-whatics? That's a big word! Bet I can still carry it in my pickup, though!"
It's not just stupidity that is supposed to make all of the males in the audience nod and say, "That's me!" -- it's childlike laziness, too. Here's an Eggo waffles ad that boasts that it's so easy to make breakfast, even a lazy, stupid male can do it! Even though he quickly gets distracted by a game of kitchen golf:

"Look at this goddamn idiot. Eggo."