Or specifically, the first creatures capable of shitting.
The problem, Logan says, was that at the time the oceans were very low on oxygen (i.e., the stuff pretty much every non-plant on Earth breathes) and very high in carbon. It just wasn't a mix that was conducive to a thriving ecosystem.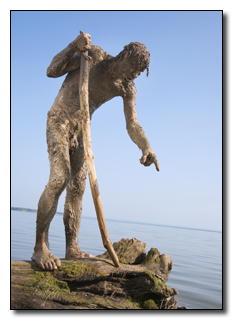 Photos.com
"Fuck you, ocean! I'm sick of your shit!"
But then came the shitters. These multicellular creatures could eat plankton and, more importantly, poop out dense turds of carbon that promptly sank to the ocean floor. Over millions of years, they turned the upper sunlit levels of the oceans from a carbon-rich dead zone into an oxygen-rich life factory that gave birth to the entire ecosystem we now know and love.
All thanks to this army of tiny, heroic shit machines.
Photos.com
"And that's why what I'm doing in the swimming pool is perfectly normal, Cheryl."