Wait, index finger? Ummm, like this?
Step 3: Quickly slide your index finger down the bony part of your thumb.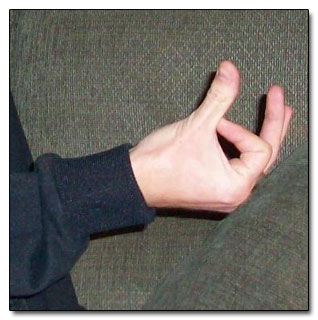 ... What the fuck?
Seriously, how did they fuck this one up that badly?
Most Important Tip:
"Make sure your fingers are slightly moist."
Oh, shit. No. Freaking. Way. Courtesy of WikiHow, we are now going to teach every girl we meet how to snap their fingers. That's right, make 'em moist first, ladies, and then Cracked will show you how it's done.
Most Important Warning:
"Don't annoy people, because they can get very upset or mad."
But they won't get mad if we get two dozen of our friends together and snap our fingers in unison, West Side Story-style, right?
Related Article You're Likely To View Next:
"How to perform a Finger Trick."
We've got to assume that eases you in with Gun Fingaz and works you up to the detachable thumb thing.