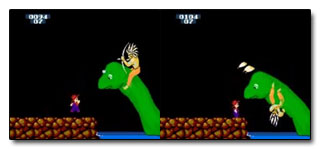 Thankfully, there is no blackface in this adaptation. SETA opted to replace all of Twain's subtle commentary on racial inequality with giant alligators, zombies and gnomes. But then, Tom lands in what is either an underground lava cave headquarters, or Hell itself. There he encounters an American Indian straddling an enslaved brontosaurus:
A few well-thrown projectiles were enough to send the filthy Injun to a watery death. The game then cuts to a young boy apparently reading these adventures in a book, his face frozen in a priceless expression of childish wonder.

"What the fuck did I just read?"