Ah, just what we'd expect. First pic for "sunny" is a nice looking beach with smooth sand, pleasant palm trees, a nice ocean view and no other people around. Beaches and the sun take up most of the results, in fact... but not all. For Sunny is a woman's name, and this is the internet.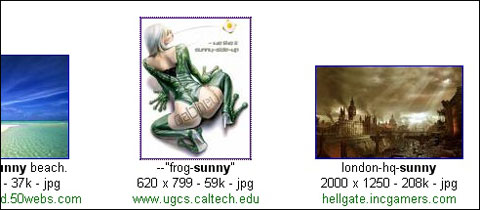 In the first row of the safe results we still get this "frog-sunny" picture of a half naked woman squatting like a frog with words tattoed on her ass, which makes us ponder whether this is porn or a new amphibian fetish (which we will call Phibies). There is also a wallpaper image of porn star Sunny Leone which gives us an early hint about what we'll see once the safe search is off.
Filter Off:
Shove a dildo up our butts, we were right.
Speaking of dildos, it appears that Sunny and her friend Roxy above are enjoying one of their courses at the "lesbian training blog."
Sunny Leone makes another appearance in the results for wearing lingerie that is less revealing than what she had on in the safe filter wallpaper. Also note that the Phibie picture has moved up a few spots. It may not be long before we start hearing about Pond Parties.