Or with absolute filth.

However, the Gay Gnome Theory doesn't explain everything, like why characters are walking around with names like Chaz Standard, Jay Faust, and Cleave Hunter. And, in case you're wondering, the Ripley character was just called Martin Roby. That's not so bad. It could almost be a real name. The spaceship wasn't so lucky, though.
Also, the planet Earth is called the planet Irth, for some reason. We're pretty sure it's pronounced the same, though, so they could have been saying "Irth" in the finished movie, and we still wouldn't know the difference.
From reading this draft of the script, it would seem that O'Bannon and Shusett didn't really have a clear idea of what they wanted the monster to look like, but you can tell that they sure as hell knew they wanted it to have a shitload of tentacles!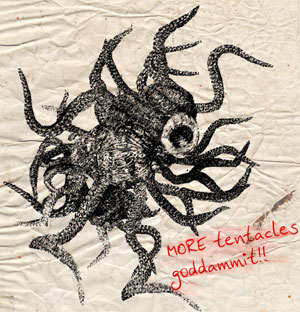 So, in the conceptual art peppered through the above-linked script, you can see that one artist took this description, threw it away, and drew some sort of cross between a grasshopper and a flying squirrel instead.

Martin Roby and the Alien hang precariously from the back of their mom's minivan.
On the Other Hand...
To be fair, some of the scenes that were dropped would have been completely fucking awesome. For instance, when the full-grown alien is first introduced, it immediately rips a man's head off and carries away the still-wiggling body, prompting "Martin Roby" to react with a line that we're sure would have been gleefully quoted out of context to this very day:
Other awesome moments include a sequence where the monster uses a still-living victim to shield itself from a flame thrower and a grand finale that involves the alien being impaled, burnt to a crisp, and cast out into the vacuum of space, at which point it fucking explodes!
Also, the plot is more or less the same as what ended up in the finished film, which is more than we can say for...