Actually, no. Especially if, like Tyson, you paid hundreds of thousands of dollars to a gentleman answering to "Crocodile," whose job it was to shout "Guerrilla Warfare!" at pre-fight press-conferences. Or if you purchase two Bengal tigers that cost $12,000 monthly for care and feeding (Bengal tigers will apparently only eat meat that has been first coated in gold).
According to reports, Tyson had:
"...custom-made Harley Davidsons, a fleet of Rolls, Bentleys and Ferraris. Once, in Vegas, he bought a batch of six Rolls and distributed them among his friends. He's had a half-million dollar watch emblazoned with pornography."
But worst of all, Tyson got wrapped up in a very expensive addiction. That's right: pigeons. Tyson started a pigeon-breeding operation, winding up with 350 world-class birds imported from all over the world, costing thousands a month in care and feeding and four elaborate coups to house them on his property.
In 2003, Tyson declared bankruptcy, owing approximately $10.2 million to the IRS and creditors.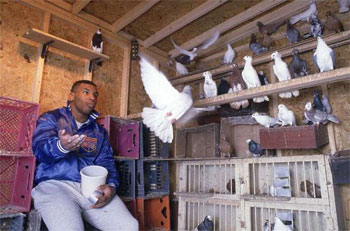 "Why did I do this?"
What We Can Learn from This:
In the event you become the heavyweight boxing champion, fight the urge to purchase a $100,000 platinum bracelet inscribed with "Heavyweight Champ." We have found that the gold belt occupying a third of your torso does an equally good job of advertising the same. Not to mention the inscription severely limits the potential pool of people to resell to.