Finally on April 28, 1908, in the aftermath of yet another fire at the Gunness farm, police found four bodies in the basement; one adult and three children. The adult was thought to be Belle, but was hard to identify because the head was missing.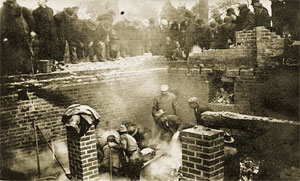 Authorities, finding this whole scene slightly suspicious, began digging up Belle's back yard. They found the remains of 12 bodies and numerous body parts. They never found Belle's head, despite the best efforts of her insurance company's agents who probably just wanted to give it a check.
How Much Did She Make?
It is estimated Belle made $30,000 from the various husbands who got sucked in by the newspaper ad, and maybe as much as $250,000 overall. It sounds impressive, but considering the sheer number of bodies she left in her path, we think it works out to like, six dollars per victim.