No sooner than we celebrate the death of the CD, its killer may be the next one in the grave. We're talking about the iPod (and its countless imitators) which is seeing falling sales for the first time in its short life.
But don't feel sorry for Apple, the reason for the MP3 player slide is that cell phones (including their own iPhone) make perfectly good MP3 players. Selling someone an iPod now is like selling a feces gun to a monkey; he doesn't need it.
Why are they still around?
MP3 players hang around for the same reason digital cameras and GPS navigators hang around; all those things are available on phones, but the standalone devices still do it a little better.
For instance, there are iPods that can hold up to 40,000 songs now (which we believe is more songs than actually exist) and the iPhone "only" has room for about 3,500. But since the average user hasn't stolen anywhere near that many songs anyway, fewer and fewer are seeing the point of carrying around a separate device.
It's true the iPod still has some fashion appeal, and Apple continues to crank out versions with new features (including the iPod Touch, which seems to have been designed as an iPhone that you can't call people with). But it's a hopeless battle, since some of us just don't have the extra pocket. That won't get any better with time, since experts believe spandex jumpsuits are the future.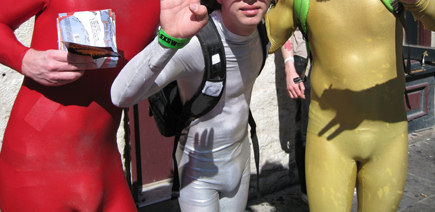 As processors and memory get exponentially smaller and smaller, the cell phone will swallow up every device in the home. By 2020 you won't even need a separate computer or laptop. By 2040 cell phones will be in charge of the planet, and our job will just be to tote them around from place to place so they can have meetings with each other.