So what's the problem? As a law enforcement robot, we're left to wonder, even if it didn't malfunction, what exactly was it planning on doing? It doesn't have hands, or any ability to transport people to jail. It just has giant machine guns. Was there actually a more peaceful way to end this scenario?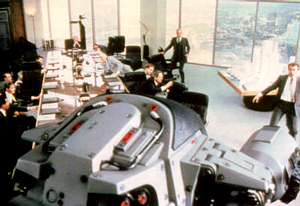 If these had been mass produced and set free in town, could they even issue traffic tickets or just blow the shit out of people who double park?
And, no, we can't avoid mentioning that the thing was ultimately defeated because it couldn't walk down a flight of stairs.