People will respect you, they may even fear you! For a total of $3.50!
The reality ...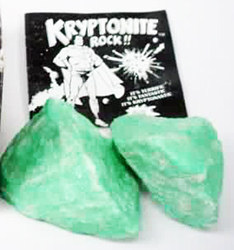 Somewhere behind this amazing product was an entrepreneur who had some extra rocks, a can of green paint and a vision.
You may wonder what kind of bastard would cheat kids out of their money by selling them green painted rocks. But that same man may rightfully point out that you deserved to lose your money, because what kind of a rotten kid dreams of killing Superman?
We like to think of all the terrified little kids who, upon discovering their rocks were fake, decided the whole thing was a sting operation by Superman to get the addresses of potential supervillains.