Sweeney Todd
Some people like musicals. Some people like incredibly graphic horror films. However, as the bloody yet melodious Sweeney Todd neared completion, producers made a tragic discovery: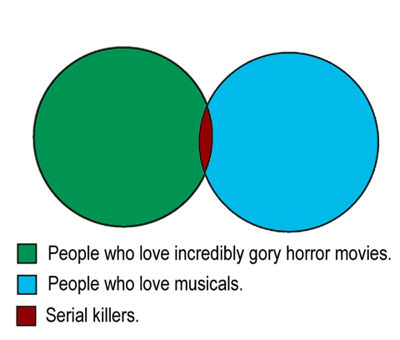 Some creative trailer editing should solve that ...
Another delightfully wacky Johnny Depp character? Accents? Boats? Why, it's Pirates of the Caribbean for the Hot Topic crowd!
Good Luck Chuck
In this 2007 film, lots of women want to sleep with Dane Cook for some contrived and difficult to explain reason. The original trailer goes to great lengths to convince you that Dane Cook should be allowed to star in movies.
Producers eventually realized that not only was co-star Jessica Alba an actual celebrity, she was pretty damn easy on the eyes, too. A new trailer was quickly cut:
Why, Dane Cook is barely in this film! And the only time we hear him is when he's uttering grunts of pain while being abused by an underwear-clad Jessica Alba! To the box office, my good man!