Once upon a time, moviemakers weren't terribly concerned with trivial little things like "commercial appeal," "content ratings," or "not making viewers have nightmares for weeks." And as we've shown you before, this led to madness that makes modern horror movies look tame by comparison.
L'Age d'Or

(1930): A Film About Incest, Serial Murder, And Shooting Children In The Face
What kind of movie features a kid getting shot in the head ...
Corinth Films
If you're happy, and you know it, *clap* you're dead
... twice ...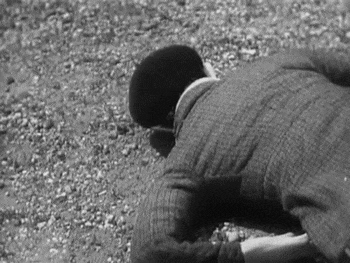 Corinth Films
"He'll think twice before not eating his vegetables again. Except he won't, I guess."
... the murderer bribing his way out of punishment ...
Corinth Films
"Five dollars?! They'll let me kill an adult Dutchman for three the next county over."
... while a man trying to make out with his girlfriend hemorrhages from the face for absolutely no reason?
Corinth Films
Not the head he wanted all his blood flowing to.
Why, that would be L'Age d'Or, Luis Bunuel and Salvador Dali's sequel to their movie about slicing eyeballs open and growing armpit-hair beards. The movie was inspired by their shared disappointment over people somehow liking their first film, so they devised a sequel guaranteed to seriously upset every living human being on the planet. That's how art works, kids.
The story, such as it is, is about a couple so horny that they try to have sex in public (the child getting murdered in the beginning was just a fun non sequitur). Unfortunately, they keep getting interrupted by the laws of civilized society. Left desperately unfulfilled, the man beings to terrifyingly hallucinate sex everywhere he looks. Like in this advertisement:
Corinth Films
"Wow, even your hallucinations don't know how to do that."
When the couple is finally able to take a proper trip to Pound Town, the man suddenly discovers that he has no fingers.
Corinth Films
"I swear, this never happens to me!"
Before he can furiously thumb his lover to an exciting climax, they are interrupted by a phone call. Understandably angry about getting sex-thwarted by the fingerless meat blocks that used to be his hands, he insults the man on the other end of the line until he kills himself. Meanwhile, the woman is so wound up by the promise of impending sex that she fellates the toe of a statue ...
Corinth Films
The only way this scene makes sense is if that statue is made of cocaine.
... and tries to swallow her dad's face.
Corinth Films
"Stop kissing me like I'm your sister. Show some passion!"
We then cut to an upper-class sex retreat at a castle, where a Jesus lookalike is weaving his way through a full-blown orgy.
Corinth Films
While the real Jesus watches above, weeping.
When one woman tries to leave, Jesus takes her back inside. A scream is heard, and the final shot of the film is a crucifix of women's scalps, because holy shit did this movie want you to hate it.
Corinth Films
The one that's second from the right would go on to fame and fortune in Star Trek.
Art and film historians claim that the movie was a commentary on contemporary attitudes towards sexuality, the cruel indifference of the upper class, and the hypocrisy of the Catholic Church. Honestly, you could tell us that it's supposed to be an anti-littering PSA and we'd believe you. Regardless of how you interpret the lunacy, Bunuel and Dali got their wish, as people hated the film so damn hard that they rioted over it.
The Brain That Wouldn't Die

(1959): A Man Tries To Murder Random Women To Find A New Body For His Decapitated Girlfriend
Like most films from the '50s, The Brain That Wouldn't Die is about a mad scientist shattering the laws of nature. This particular mad scientist, Dr. Cortner, is busy keeping his fiance's head alive after a car crash decapitates her. You know you're in for a treat when a movie features the main character carrying his lover's head around in a jacket -- which is not something that moviegoing audiences were used to seeing during the Eisenhower administration.
American International Pictures
"I told you to wash this thing."
"Nag, nag, nag."
The understandably distraught doctor's plan is go on the prowl for a sufficiently sexy woman to decapitate. It's not as though he can pop down to Woolworth's to buy his fiance a replacement torso. However, said fiance, Jan, is less enthusiastic:
American International Pictures
No woman looks forward to a life of blowjobs as her only sexual options.
Furious at her main squeeze for not letting her suffering end, Jan hatches an evil plan with a monster in Cortner's lab using telepathy. Neither the presence of the monster nor her randomly acquired powers are ever explained, but before you can put much thought into it, the monster ambushes Cortner's assistant and rips his goddamn arm off.
American International Pictures
American International Pictures
"That was my sciencing arm, damn you!"
As the man bleeds to death, Cortner finally manages to kidnap a suitable replacement woman and drag her unconscious body back to the lab, where he tapes his fiance's mouth shut to silence her annoying objections to the whole "murder some random innocent person to give your severed head girlfriend a new body" plot.
American International Pictures
"Nag, nag, nag."
Unfortunately for Cortner, that fucking monster is still shambling around his office. It ambushes Cortner and rips his entire goddamned voice box out.
American International Pictures
And spits it out, before getting a lecture about starving mutant cannibals in China.
The lab gets set on fire, because Cortner is terrible at maintaining a safe work environment, and the monster escapes with the unconscious woman while Jan's head burns away to oblivion, laughing maniacally. We assume the audience sat in total silence for several moments before gently setting their tubs of uneaten popcorn down and shuffling out of the theater, never to speak of this again.
American International Pictures
She'd have to settle for a dead acting career.