Experts agree there is no more than a 40 percent chance the world will end in a zombie apocalypse. But when we say that The Walking Dead is full of shit, we're actually not talking about that part, or the fact that every member of the cast is an expert marksman with a pistol. We're talking about the unspoken rules by which the entire universe functions -- a universe that, aside from the zombies, is supposed to be our universe.
Think about it: the central theme of the entire series is that ...
When Shit Goes Wrong, Only the Badass Killing Machines Will Survive
In the world of The Walking Dead, nobody has jobs, unless stabbing zombies in the brain through a chain-link fence can be considered a job (and even if it can, it's certainly not a career). Now, this is of course part of the appeal of any apocalypse (as we've mentioned before -- most of us would love to trade long days in a cubicle for lawless zombie combat) but it's also by far the most implausible part of the show, even including the undead and the fact that women can apparently survive a zombie apocalypse while dressed like this:
AMC
"THERE, I AM NOW UTTERLY BITE-PROOF."
It's not the implausibility that's worth noting -- it's that it implies something about the world that only terrible people believe. Let me give you an example:
There's a moment in Season 3 when the main characters are driving along in their ad-placement SUV and a random, able-bodied survivor in a backpack tries to flag them down, begging to join them.
AMC
They just pass the guy, ignoring him, the unspoken understanding in the vehicle that they can't take on another mouth to feed. Later, at the end of the episode, they pass by the same dude, now lying dead on the street. They stop, take the supplies off his dead body, and drive off into the distance. The message is clear: in this new, dog-eat-dog world, that's all survivors are good for, the food and tools in their backpack.
So ... what if it had turned out that guy was himself a badass zombie-killing machine? That'd come in pretty useful, right? Well, maybe they could tell by looking at him that wasn't the case (no visible weapons, not covered in enough zombie blood). Fine.
But what if he turned out to be a skilled surgeon? Or an electrician? Or an expert gardener? Or a carpenter? Or a mechanic? You don't think they'll ever need somebody who can heal wounds, or hook up a generator, or grow food, or build a shelter, or repair a vehicle? Really? Because it seems like 90 percent of the group's problems could be solved by somebody who just knew what the hell they were doing.
"But," you might say, "what percentage of the population are actually experts? The odds are probably better that he's both worthless and a pedophile!" And if you're saying that, congratulations, because you share the same worldview as the producers. So let's say the hitchhiker isn't an expert at anything, but did work at a Walgreens when he was in college years ago, and thus knows what antibiotics to steal and in what dosages. Or, maybe he was just an unemployed hipster, but he was an Eagle Scout when he was a kid and thus knows how to tie every kind of knot, how to identify every kind of edible mushroom, and how to skin every kind of game. Maybe he's just a really good cook. How many people do you know who are truly worthless? You can learn a bunch of useful shit just working at a convenience store for a month.
Hell, maybe he's just really funny, and thus good for morale. You don't think that would be helpful in a world where 90 percent of the conversations are about how they don't know if they can continue under the weight of their crushing despair?
If so, it doesn't occur to anyone in the world of The Walking Dead. It doesn't occur to them that any fellow human might have something useful to offer. The central theme has always been that, in a world where society has broken down, only the most cold-hearted, murderous badasses survive. The rugged individualists who don't need anybody.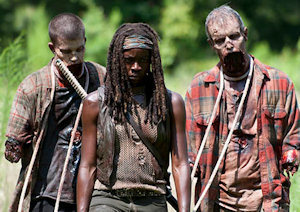 AMC
The rest of the survivors out there, well, they're just sheep. Dead weight, waiting to get slaughtered by either zombies or psychopaths, in a world that has naturally selected against everything but. That leads to the larger message that ...
Communities Are Cool and All, but in a Crisis It's Every Man for Himself
At this point in the show, we're about 18 months into the apocalypse (though there seems to be some confusion about that even among the writers) and even now, when somebody needs food or medicine or diapers, they have to go scrounging through nearby buildings to find it. This is a world where there is no commerce, in defiance of all logic and reason.
AMC
"What, you think they'd be able to just go buy shit from a department store during a zombie apocalypse? Ain't gonna be no Walmart after the zombies come!" You're wrong, and I can prove it.
If the zombies came to your city tomorrow, somewhere out there will be a dude who owns a pharmacy, or just works at one. He is not a badass, or a zombie-killing machine -- he might even be frail and old. But when he sees shit is about to go down, he will take the opportunity to stash as much of his stock as he can in a secure location and wait. He will do this because he is a thinking human being, with a fucking desire to live. Then, in the aftermath, he will start hanging fliers all over town that say:
IF YOU NEED MEDICINE, COME TO THE CORNER OF FOURTH AND MAIN. WILL BARTER FOR FOOD, SUPPLIES, AND PROTECTION.
"But some thugs would just come and steal his stash!" No, they won't, because it's not his stash that's valuable. It's his knowledge. This is what people in the real world know, that everyone in The Walking Dead forgets.
You don't kill the medicine guy, because he's the only one who knows what any of that shit is and how to use it without killing yourself. You might need him -- if not today, then next week, or next month, or next year. It's the same reason you wouldn't kill the mechanic, or the gardener, or the carpenter, or the cook, or the prostitute. Because, contrary to what The Walking Dead would have you believe, humans can do things for each other that make life better. This is the fundamental truth upon which the entire world exists, that somehow everyone in The Walking Dead universe ignores.
"But the rules change in a post-apocalypse!" Right -- in that world, you need those people more. The fact that pharmacists, mechanics, cooks, etc. are rarer in that universe, and that training new ones is incredibly difficult, means they're even more valuable. The town dentist would have a fucking army around his house.
AMC
And Carl would be dead within seconds.
In fact, it would be to the mutual interest of the carpenter, mechanic, and pharmacist to gather in one secure location, where the armed badasses protect the border in exchange for the right to live in a place that has medicine, food, and working cars. This is what us humans call a town. Yet, in The Walking Dead ...