At this point, we shouldn't be surprised by anything nature does. She's like a meth addict whose drug-fueled rampages unfold in slow motion and span millions of years. And yet, as we've shown once before, we are continually shocked by nature's shenanigans. We're just totally in denial after witnessing scenes like ...
A Crocodile Eating a Shark
Andrew Paice
Doing the Crocodile Rock isn't as much fun as the song suggests.
No cheap tricks here; that's not a foam shark prop or anything. Apparently, sharks and crocodiles do encounter one another occasionally, and that goes about as well as you could expect. Bull sharks aren't terribly big -- roughly 8 feet long on average -- so they can be found just about anywhere with water. The poor sap above chose to enter the muddy lair of Brutus, a giant crocodile with a strong anti-shark bias due to one of them possibly biting off his limb when he was younger. When Brutus saw the intruder, he grabbed the shark, dragged him on to land, and began chewing on him. After a short while, he brought the shark back into the water, because nobody likes eating dry meat. So there you go: crocodiles understand revenge.
Andrew Paice
"I'm the only one that gets to take hands, motherfucker."
Or else crocodiles will just eat everything they see and even sharks don't stand a chance. You decide which worries you more.
A Landscape Made Out of Penguins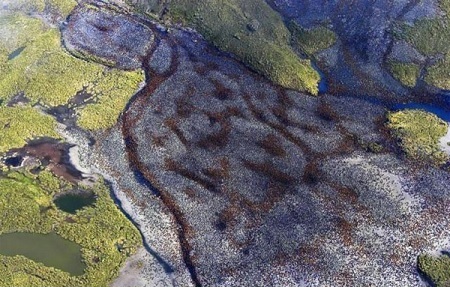 Andy Rouse/Rex Features
Touching down on Planet Pollock.
Dirty snow? Some sort of mass blooming plant? What are we looking at here? Zoom. Enhance.
Andy Rouse/Rex Features
Oh, wow, are those people, organizing for some sort of mass protest?
Andy Rouse/Rex Features
Nope: penguins. We tend to think only humans and maybe some insects organize in colonies so massive. But you're looking at a penguin metropolis. Or, if you prefer, the million-penguin march, in fact. This shot was taken by Andy Rouse in a passing helicopter, and it captures the king penguin colony of South Georgia. There, adults instinctively gather their brown-stain babies and huddle them together to keep them warm. Once the chicks are secure, the grown-ups go hunting for fish, more fish, and (if the kids are really good) fish for dessert.
Andy Rouse/Rex Features
Made with a mother's love ... and stomach bile.