Hitler. Stalin. Ivan the Terrible. We all love these guys. Which is to say, we hate them and everything they stand for, but we're secretly glad they existed. Otherwise we'd have to learn about the cultural and political tensions behind world history, as opposed to boiling it down to "there was a bad guy who made crap happen because he was evil."
But sometimes in our haste to find a villain in every situation, we wind up painting some people as cackling cartoon villains when they were really just random guys, or even pretty awesome. Here are a few names you might want to give a second chance:
You Know Him As:
Genghis Khan was a barely-coherent fount of animalistic violence, who tore across Asia with his horde of barbarians laying waste to every village in his path, killing the men, raping the women, eating the children, killing and raping the livestock, burning everything down then raping and eating the ashes, etc. Anything that fits under a modern white person's notion of "pillage," Khan did while laughing a guttural, jackal-like laugh.
But in Reality:
What would you think of a guy who brought all the gangs of South Central Los Angeles together into one happy community? Well, deepen the grudges by about a millennium and expand the whole thing to cover one and a half million square miles, and you've got the task Genghis Khan achieved before he was even famous.
Back in the day, Mongolia was just a bunch of scattered nomadic tribes who would wander around, kill each other, wander around some more and basically be laughably irrelevant on a global scale. Then Genghis came along and united the entire clusterfuck in a couple of decades.
And if you're wondering if his "peace talks" were conducted by a thousand burly men with clubs, sorry, Genghis was always more of a politician than a psychopath. He attracted the allegiance of other tribes by spreading the word that life under his rule was crazy awesome. He did away with the sacred Mongolian tradition of "Fuck the soldiers, just fuck 'em" by allowing defeated enemies to join, giving the men a share in the spoils of war and basing promotions on merit rather than politics. Soldiers had never been treated so well by a commander before, or if you think about it, since.
So once he'd turned Mongolia into one big happy family, his next job was to keep them that way. He figured if the people were left to their own devices they'd get antsy and just drift back into the wandering around and killing each other for lack of a better idea, so he arranged activities to keep them organized, like massive hunts or conquering all of mainland Asia. Seriously, that's a leading theory, that Genghis had his armies invade everything in sight as some kind of team-building exercise. Beats the shit out of softball.
You Know Him As:
Benedict Arnold fought for the British during the American Revolution. Even worse, he did it despite being American. Attempting to use his position as a general in the Continental Army to gain control of West Point then surrender it to the British, he was discovered, thwarted and his name has since become synonymous with "English muffins topped with bacon, poached eggs and hollandaise sauce." No, wait, "traitor," that's the one.
But in Reality:
Arnold actually did all that stuff. Switching sides, trying to surrender West Point, the whole shebang. But you know what? Considering the circumstances, it's hard to say we blame him.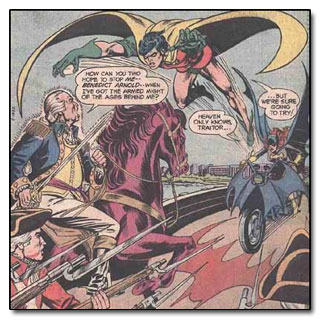 This shameless display of unmitigated gall, however, is inexcusable.
When you look at pre-treachery Arnold, what you find is an almost comical beacon of good old-fashioned American virtue. After his mother died, he single-handedly supported his sister and suicidally alcoholic father; he enlisted to fight off a French invasion when he was 15; he grew up to be a successful capitalist and family man. If he'd fought a duel against somebody for using "Yankee" as an insult, he would've been the ultimate American. What, he did that? Never mind then.
Then there was his record during the revolution. He planned and led the famous siege of Fort Ticonderoga. Somewhere around here his wife died, but he soldiered on, masterminding the strategic invasion of Quebec, where he held position for weeks despite being cut off from the rest of the army and shot in the leg. He held back the British at Lake Champlain, he was instrumental in the Danbury raid, he was essential to the success of the Battle of Saratoga. If he fell off a bridge and died at this point, there would be a 50-foot tall statue of him in Connecticut, made of platinum and diamonds.
The army must have loved this guy, right? Surely by this stage he was being carried everywhere by a living throne of nubile young women. Wait, instead they repeatedly passed him over for promotion with younger, less experienced men? And other officers tried to take credit for his achievements? And he was investigated by congress on baseless accusations of corruption?
Basically, after all his bravery, sacrifice and bullet holes, America seemed to develop a great passion for kicking Arnold in the gut. It didn't help that at the same time they were creating an alliance with France, the bad guys from Arnold's teenage war adventures. Under those conditions, it's understandable that he'd quit the team.
People may have had more respect for him if, rather than being sneaky about it, he'd yelled "Fuck you all, I'm with England now" as he rode off giving everyone the rudest gesture of the times. It's the betrayal that irks people. But hey, America, you started it.