Who says there's nothing useful on the Internet? From Yahoo Answers to the countless How-To sites, the web is full of non-experts telling you how to do everything from change a muffler to castrate a llama.
But some of these "how-tos" seem so grossly unnecessary, we're wondering if these people aren't just getting paid by the word.
How to Use Kitchen Scissors
This guide is there to save those of us who didn't take those scissors operation classes in college.
Most Important Step:
Step 2: "Put the scissors in the kitchen in an easily accessible place."
Well, that makes sense. Because despite being the best place to store stuff, it turns out it would be a pain in the ass to run to the attic every time you needed your kitchen scissors.
The article goes on to recommend situations where your newfangled kitchen scissors can come in handy. Such as:
"Chopping up whole tomatoes from a can."
Okay, they're clearly fucking with us at this point. You've got some poor sap who needs an Internet guide to use scissors, and you're going to set them to cutting "whole tomatoes" with them? That's like making hood surfing part of the driver's test.
Also, "Cutting pizza wedges."
No, WikiHow. Just fucking no.
Most Important Tip:
Under the "Things You'll Need" heading, the first bullet point is "kitchen scissors." See, this is what the Internet should be for, people.
Most Important Warning:
"To avoid the temptation of using the kitchen scissors for cutting paper or any other household object beyond kitchen preparation, it is a helpful idea to place a second pair of scissors in an accessible location that will stop others from taking off with the kitchen pair."
That's right. Because the biggest concern regarding kitchen scissors would have to be the temptation involved. Forget the midget hooker with the bottle of Jose, because we're really not sure we can resist cutting out paper snowflakes with our exclusive-ass kitchen scissors.
Related Article You're Likely To View Next:
"How to cut glass."
We're guessing you have to avoid the temptation, and use something other than kitchen scissors.
Let's face it, snapping your fingers is one of those skills where if you can't do it by now, reading a guide probably won't help you.
Most Important Steps:
Step 1: Choose the hand you want to snap with.
Can't argue with that. Trying to learn both hands at the same time might be a bit much.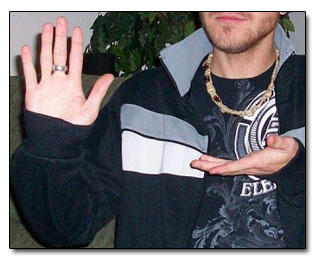 So far, so good.
Step 2: Have your index finger meet at your thumb about halfway to the top.

Wait, index finger? Ummm, like this?
Step 3: Quickly slide your index finger down the bony part of your thumb.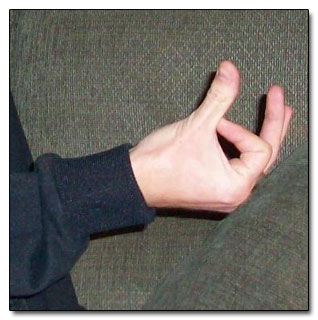 ... What the fuck?
Seriously, how did they fuck this one up that badly?
Most Important Tip:
"Make sure your fingers are slightly moist."
Oh, shit. No. Freaking. Way. Courtesy of WikiHow, we are now going to teach every girl we meet how to snap their fingers. That's right, make 'em moist first, ladies, and then Cracked will show you how it's done.
Most Important Warning:
"Don't annoy people, because they can get very upset or mad."
But they won't get mad if we get two dozen of our friends together and snap our fingers in unison, West Side Story-style, right?
Related Article You're Likely To View Next:
"How to perform a Finger Trick."
We've got to assume that eases you in with Gun Fingaz and works you up to the detachable thumb thing.