With the presidential election looming, we've reached a point where all of the craziest candidates have been filtered out of the process.
So as John McCain and Barack Obama drone on about policies, issues and other tedium, we'd like to take a moment to celebrate the craziest bastards who have run for -- and even freaking won -- public office.
Larry Kilgore
Larry Kilgore, coming off a run for the US Senate in Texas, is what some people might call insane. Certifiably insane. Like "will eventually wind up in a bell tower with a rifle" insane.
Running on a platform that hopes to see Texas gain independence from the US, Kilgore takes all his cues from the Old Testament. As such, he believes people such as adulterers and homosexuals should be put to death. Oh and they'll be killed within 24 hours of conviction. Lest you think yourself free from Kilgore's frothy-mouthed wrath, he also has flogging listed as a punishment for "lesser" crimes. In fact, he says this on his website:
Quote Judges will flog those convicted of fornication; of public use of vulgar sexual and excretory language; of sexually suggestive dress or behavior; of intoxication; and of possession of pornography. Judges will flog more severely those convicted of transvestism; of public nudity; and of distributing pornography. And judges will flog more severely still those convicted of prostitution; of producing pornography for any use; and of sexual acts in public places
The fact that he's basically set up the entire judiciary to spend 40 hours a week handing out non-stop beatings to a good 90 percent of the country until they all have to go on disability with severe tennis elbow doesn't seem to be a concern to him or the 225,897 people who voted for him last time he ran.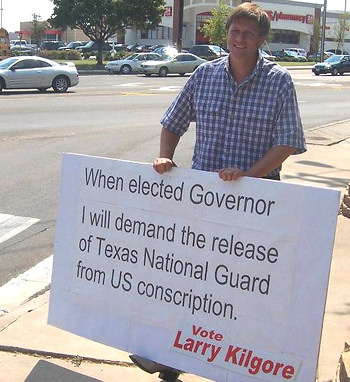 Fear not for there's apparently some wiggle room in all of this, because he admits on his very own site that he's repented for watching porn on both the internet and TV with no mention of being beaten. On the plus side, it looks like being a fuckstick of divine proportions isn't a floggable offense so he's clear on that count.
Probable Mental Illness:
Transpersonal Identity Disorder.
This is the from first paragraph from a paper on the subject:
"... driven by the certainty that they are privy to sacred truths and are therefore morally obligated to do everything in their power -- no matter how many people may suffer -- to act upon these truths ... a tendency to dehumanize and even demonize those who oppose them."
Sounds like Kilgore to us. Also, Kevin Spacey from Se7en.
James Traficant
James Traficant, former Democratic Congressman from Ohio, was about as far out in left field as you can get. More accurately, he was over the left field fence, in the parking lot, licking puddles of anti-freeze from under buses.
Sure, he was expelled from Congress and convicted on charges of bribery, tax evasion, racketeering and forcing his aides to do chores on his farm including bailing hay and building a corral (possibly for the bulls we assume he rode around to make his hair look like that). But that's all par for the course. If corruption proved you were crazy, half the world would be in straight jackets.
No, Traficant makes it into the crazy politician hall of fame for the
dozens upon dozens of insane, one minute speeches
he made while in the House, such as this little chestnut of wisdom:
"Madam Speaker, it started with the training bra and then it came to the push-up bra; the support bra, the Wonder bra, the super bra," he said. "There is even a smart bra. Now, if that is not enough to prop up your curiosity, there is now a new bra. It is called the holster bra, the gun bra. That is right, a brassiere to conceal a hidden handgun. Unbelievable. What is next? A maxi-girdle to conceal a stinger missile? Beam me up. I advise all men in America against taking women to drive-in movies who may end up getting shot in a passionate embrace. I yield back all those plain old Maidenform brassieres and chain link pantyhose."
And this awesome threat, which Cracked staff has used ever since:
"If you don't get those cameras out of my face, I'm gonna go 8.6 on the Richter scale with gastric emissions that'll clear this room."

From Traficant's own website
Currently Traficant is serving his prison sentence with a projected release date sometime in 2009. In the meantime, we assume he's using the beast on his head to warn him of any attacks from the rear in the showers or shivs out on the yard.
Probable Mental Illness:
Antisocial Personality Disorder.
Some of the criteria for this diagnosis include "failure to conform to social norms with respect to lawful behaviors as indicated by repeatedly performing acts that are grounds for arrest" and "conning others for personal profit or pleasure" as well as an "inability to tolerate boredom" and a "tendency to violate the rights and boundaries of others."
Sounds like Traficant. Also Jack Nicholson's Frank Costello from The Departed.