The 9 Most Badass Bible Verses
#6. Judges 3:16-23
They say that history repeats itself, and this verse illustrates that clearly. Our hero Ehud came up with the idea of concealing a weapon by strapping it to his body several thousand years before John McClane did in Die Hard.
Instead of strapping it to his back, Ehud chose to tie it to his thigh. One wonders why the royal guards didn't comment when they frisked Elud and felt 18 inches of rigid steel in his pants. Maybe, they just assumed he was Egyptian.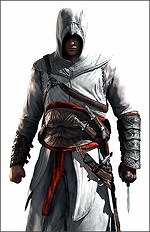 After bypassing the tight security, Ehud continues to act like a Bruce Willis character by busting out a snappy one liner: "I have a message from God for you," he declares shortly before whipping out his blade and shanking the evil, grotesquely obese King Eglon in the belly.
Really, the only way to improve on this would be by shoehorning an awful pun into it, such as "You should really cut down on your fat intake!" or "Looks like being king takes guts!" As he leaves, Ehud shows he hasn't forgotten his good manners by considerately shutting the door behind him. It doesn't say if he went flying across rooftops Assassin's Creed-style, so we're forced to assume he did.
As bad as the delivery of that particular message from God went for Eglon, he got off lucky. As you'll see, God sometimes delivers the message himself.
#5. Numbers 16:23, 31-33
The above happened years after Moses killed the Egyptian guy and led a country's worth of Hebrews into the desert where they wandered aimlessly for several decades (as seen in The Ten Commandments). At some point, a troublemaker named Korah and 250 supporters banded together and aired a series of complaints about the fact that they were wandering aimlessly in the desert.
God listened carefully to their complaints, weighed their points, then made the earth eat them alive. The text does not make it clear whether or not the earth made that "OM NOM NOM" sound, so scholars are forced to speculate.
This really puts things in perspective for the anti-religion critics. They can complain all they want about religious "intolerance" and pushy evangelicals trying to censor TV and annoy people into conversion. But, that's a hell of an improvement over the situation during the Exodus, when God would feed nonbelievers to the mighty Sarlacc.
Two verses later, God sends down a ball of fire and incinerates the other 250 rebels. You have to imagine there was a moment of tentative relief when the 250 rebels saw that they had not been swallowed up along with Korah. "Yeah," they probably said. "Thank you! We were just about to bury that asshole ourselves! Fortunately, we all have learned the error of our rebellious ways and--hey, what's that ... AAARRRGGGHHH! FIRE!!"
#4. Deuteronomy 25:11-12
This is a man's law, right here. When Conan became king at the end of Conan the Destroyer, you can bet he made sure there was a rule just like this his first day in office. "Ladies, we respect your right to resolve disputes in whatever manner you feel necessary for the situation. But, DO NOT GRAB THE JUNK."
The words in the Bible are actually those of God, speaking to the Hebrews and taking time to add the junk-grab rule into the supplemental commandments that didn't make it into the original 10. This had to be right after God realized his plan for a male-dominated society had a fatal flaw, which is that the women could prevail in any conflict simply by grabbing the men's junk.
Now, you nervous, liberal types are complaining that this is barbaric and misogynistic. Perhaps, a little context helps. Just a couple of pages earlier, in Deuteronomy 23:1, we get this:
"Emasculated by crushing?" Gah! Everything in the Bible has to be understood in context of the times these people were living in. And, apparently, these people lived in a time when "crushing" the nuts was so common that the crushed-nuts victims were an entire demographic that had to be accounted for in the law. Call these commandments savage if you want, but if you were God, how many nuts would you have to see "crushed" before you overreacted? We're thinking the answer is two.
Of course, if you're not a believer and don't think this "grab the nuts, lose a hand" commandment is from the almighty at all, then it becomes obvious what happened: The rule was handed down by some angry clergyman within the first minute or so of having his junk crushed. All perspective tends to go out the window at that moment.