For many of us, The Flintstones were our go-to source of facts and information about the Stone Age. But could it be that this beloved cartoon classic isn't an accurate depiction of the Stone Age at all? Could it, in fact, be set in a post-apocalyptic future wasteland that's been "bombed back to the Stone Age" for real? Let's investigate.
In the 1987 TV movie The Jetsons Meet the Flintstones, Elroy makes a time machine to send the family to the future. Chaos ensues when, thanks to a last second malfunction, they end up in the past. But, what if the machine worked? What if they actually just went to a future beyond their understanding?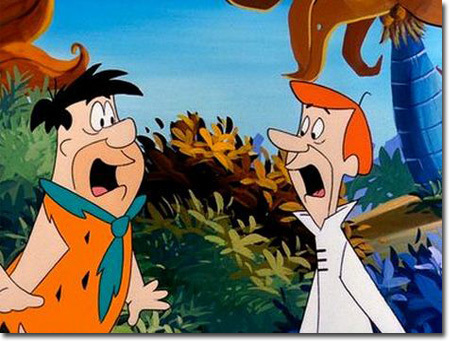 We've already mentioned how the Jetsons live in the sky to escape the wasteland below. What if the wasteland was a nuclear apocalypse and Orbit City was only a temporary home away from home while the Earth recovered?
(NOTE: So it turns out that Chris Hardwick explained a very similar theory a few years ago on this live episode of the wonderful Nerdist Podcast. Skip to 1:17:20 to hear his version, which includes robots cloning dinosaurs, and is therefore scientifically superior to ours.)