Today's Christmas party games kinda suck: it's either Ugly Sweater Contests, White Elephants, or Argue About Ronald Reagan With Your Intoxicated Uncle Until He Fakes a Heart Attack. Back in the old days, however, the way people entertained themselves while waiting for Jolly Old Saint Nick was much more entertaining. Any of the following games will light a giant spark under your next holiday shindig, provided nobody tells the cops:
5

Hot Cockles (Late 1700s-Early 1800s)
If you're bored with using Twister as a convenient excuse to touch somebody else's naughty parts, then perhaps you'd prefer a friendly game of Hot Cockles. A very friendly game. "Put your face in someone's crotch" friendly: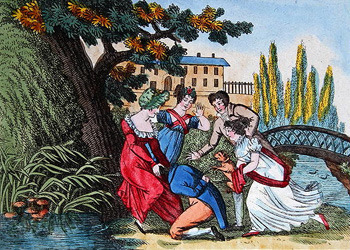 via evejulianaondisplay.typepad.com
"Carol? Wait, no -- grandma! Definitely grandma."
The rules are incredibly simple: while your vision is impaired due to your head being buried in another person's lap, one of your buddies hits, kicks, spanks, and paddles your vulnerable and willing behind. At this point you have to guess who's behind the abuse, and if you guess correctly, you win ... not getting your ass kicked anymore. Though we're guessing it wasn't unusual for players to intentionally name the wrong person so they could continue sniffing someone else's privates.