12 Iconic Roles We Absolutely Do Not Need Reprised
We loved these characters… At the time! Do we really need to see them embark on another journey, or should we just go back and watch the tried, tested, and true originals? Great comedy movies aren't like sitcom episodes! You can't just think, "Oh, people seem to like this Lloyd Christmas character… Let's see him doing his laundry! Now let's see him wear a turkey on his head!"
Click right here to get the best of Cracked sent to your inbox.
We all know that Hollywood is out for those box office dollars, and what better way than to latch onto an already successful character's built in audience? Hey, maybe the actor was more than thrilled to revisit that fun character from decades past. Maybe the script was good, and everyone legitimately felt that fans would genuinely love a reprisal. This is the fine line that they sometimes fail to walk. The Zoolander 2's and the Anchorman 2's of the world. We don't think they were out to ruin great characters, but it makes us a little protective of other favorites that have yet to be tarnished. So, Hollywood, here are 12 iconic movie roles that we absolutely do not need reprised.
Tom Cruise is obsessed with a Les Grossman spinoff.
Our perception of Mike Myers has changed drastically since the '90s.
2001 called… They want their fat suit back.
Napoleon Dynamite lives on in everyone's impression of him.
We applaud Ben Stiller and Jim Carrey for The Cable Guy's originality.
If you want nostalgia, just watch the original.
John Hughes caught lightning in a bottle. Don't let it out.
The Dude kind of abided.
This generation's Goonies wouldn't leave their iPad's long enough for a treasure hunt.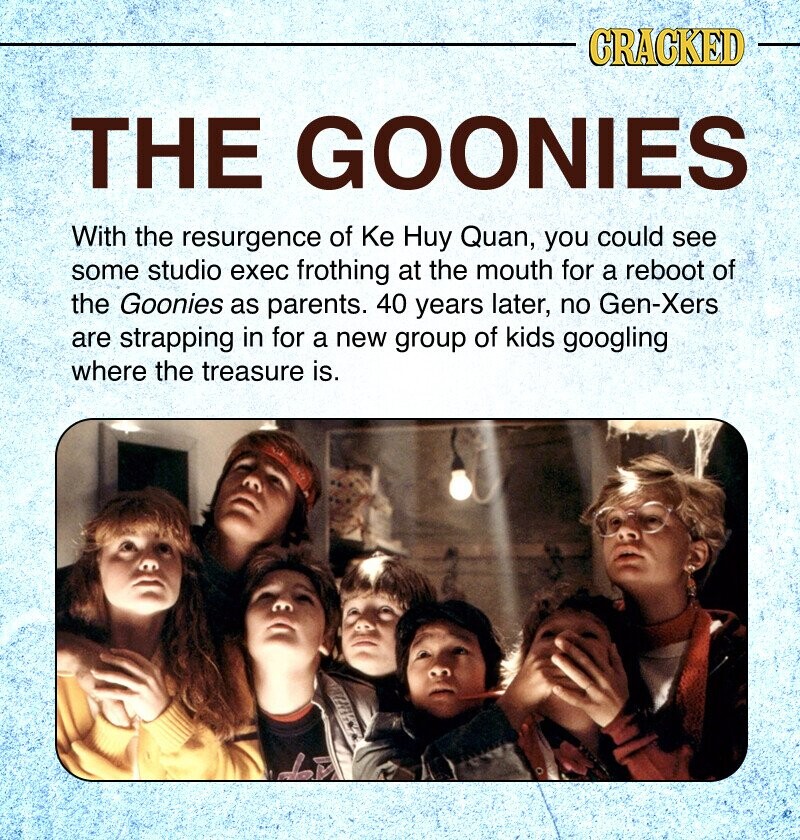 Well put, Jim. Well put.