15 Singularly Perfect Comedies That We Hope Never Get A Sequel
Dear studios, executive producers, and even just plain old producers… Leave these singularly perfect comedies alone! No need to call a meeting about how much money they made, and get bright ideas about sequels, remakes, or spin-offs. We've seen how you take a great comedy like Dumb and Dumber, and crank out two lesser versions and an even worse cartoon series. If any real fan of the original wants to check in on those characters again, they'll just rewatch the original!
Great comedy movies aren't like sitcom episodes! You can't just think, "Oh, people seem to like this Lloyd Christman character… Let's see him doing his laundry! Now let's see him wear a turkey on his head!" It shouldn't be that way! And yes, there are rare cases where sequels end up being better than the original, but do we need to remind you about countless unnecessary sequels like Son of the Mask, Caddyshack 2, Mean Girls 2, Anchorman 2, The Blues Brothers 2000, Zoolander 2, etc.? Honestly, we're surprised we could even scrounge up these 15 amazing comedies that haven't had (and don't need) sequels.
Galaxy Quest surprised everyone with how great it was.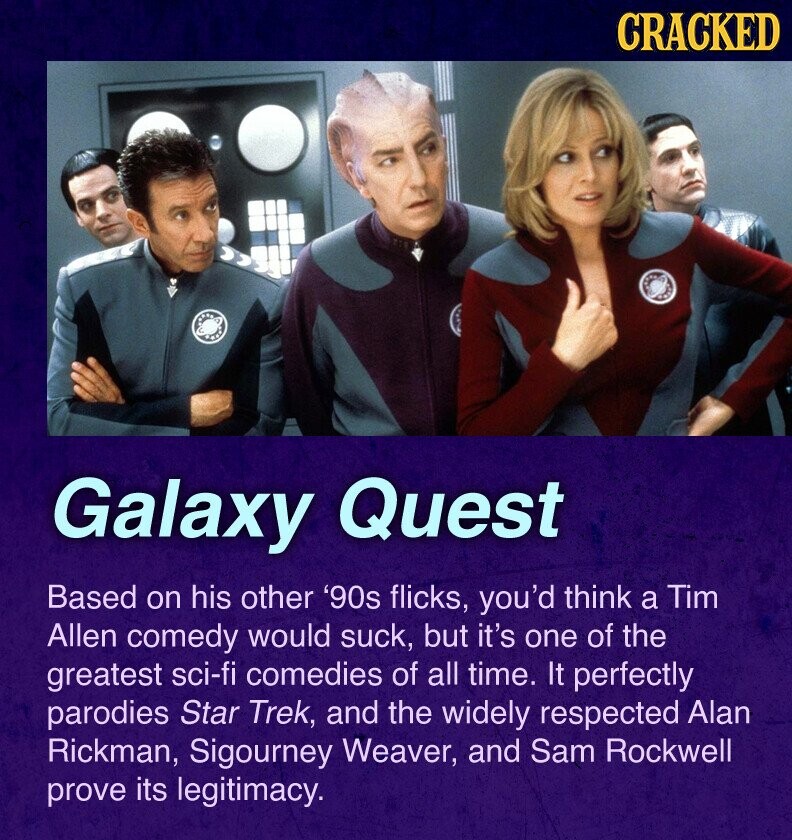 The Napoleon Dynamite phenomenon came out of nowhere.
Get some marionettes and try something like this… We'll wait.
Thankfully, they echo the sentiments of this list.
We may actually get one of two possible remakes of Planes, Trains and Automobiles.
Shaun of the Dead
We were so close to getting a godawful Old School sequel.
We're sure Wes Anderson would nail a sequel.
We almost got a Mrs. Doubtfire sequel.
We applaud Director Ben Stiller and Jim Carrey for The Cable Guy's originality.
Office Space