15 Stars Haunted By Their Famous Roles And Lines
Ah, the joys of fame. From the moment a celebrity steps onto the public stage, they are subject to adulation, adoration, and, of course, the occasional quote or two. It's a rite of passage for any star — from the moment they appear in a movie, TV show, or play, fans will remember them for their most iconic lines. And that's why we're here today. To celebrate the stars who have been quoted, misquoted, and quoted again. To recognize the actors, actresses, and comedians who have been immortalized in the minds of fans for their most memorable lines. To pay tribute to the celebrities who have been stopped in their tracks by fans eager to hear their favorite quotes.
So without further ado, let's take a look at some of the most famous quotes in Hollywood, and the stars who said them. From Jennifer Coolidge's "It makes me want a hot dog real bad," to Tom Holland's "I don't want to go", these are the lines that have become part of our collective cultural memory.
Tom Holland: Fans won't let him forget his iconic 'Infinity War' line.
Matthew McConaughey's catchphrase: "All right, all right, all right!"
Maya Rudolph's Starbucks order: 'The Lady Who Took a Sh*t in the Street.'
Alfonso Ribeiro: Not just Carlton anymore.
Christopher Mintz-Plasse: 'Superbad' still lingers 15 years later.
Bobby Cannavale: A star stopped in his tracks by fans of 'The Watcher'
Anna Gunn: From beloved to loathed in one TV role.
Ashley Park's got fans everywhere.
Celebrating avarice? Stanley Weiser's 'Wall Street' misunderstood.
Airport fan: Request granted.
Jack Gleeson: King of Quotes?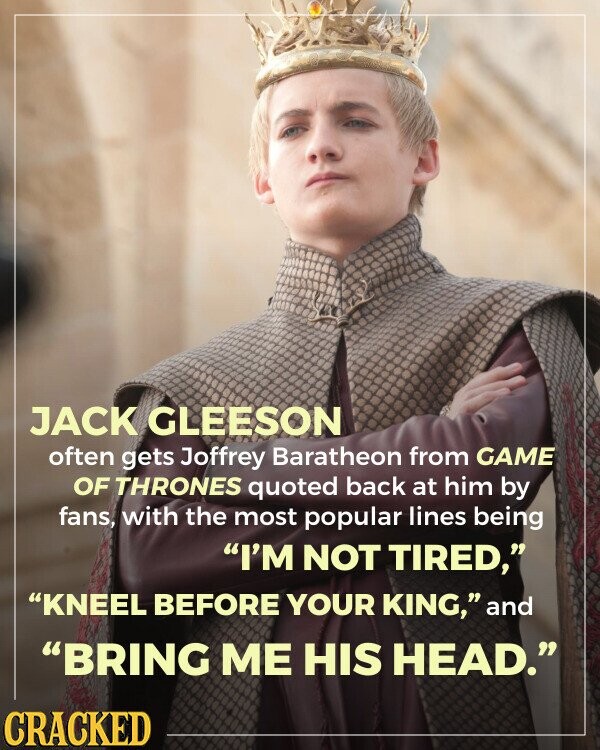 "Meatloaf" – Will Ferrell's iconic line from 'Wedding Crashers'
Jennifer Coolidge: 'Legally Blonde 2' line gets old fast.
John Cleese: Connecting with fans, one quote at a time.
"Get to the chopper!" – Arnold Schwarzenegger's most requested line.