15 Reasons to Gasp: The Wildest 'Jeopardy!' Controversies
Are you a Jeopardy! fan? If so, then buckle up for this wild ride of controversies that have sparked outrage from viewers and contestants alike. From questions about geopolitical events to an ill-advised clue referencing murder and suicide, the show has been no stranger to controversy over its decades on air.
We'll take "Weirdest Faux Pas" for $200, please. What is when Mike Richards stepped down as host due to discrimination lawsuits and offensive remarks he made on a podcast; or Mayim Bialik's orange blazer causing online uproar; or Ken Jennings apologizing for his past insensitive tweets — but will Jeopardy! fans forgive him? These are just some of the outrageous moments in recent years that had us all scratching our heads, wondering what was going through their minds at Jeopardy!
And if these weren't enough already, we've got more where those came from, including wrong West Bank clues sparking backlash; Sam Buttrey cheated out of his win thanks to King James Bible ruling (or not); POTS being referred with outdated term prompting apology by producers … and much more!
Mayim Bialik in hot water over vaccine controversy?
Can you answer what Kelly Donohue's 'Jeopardy!' hand gesture really meant?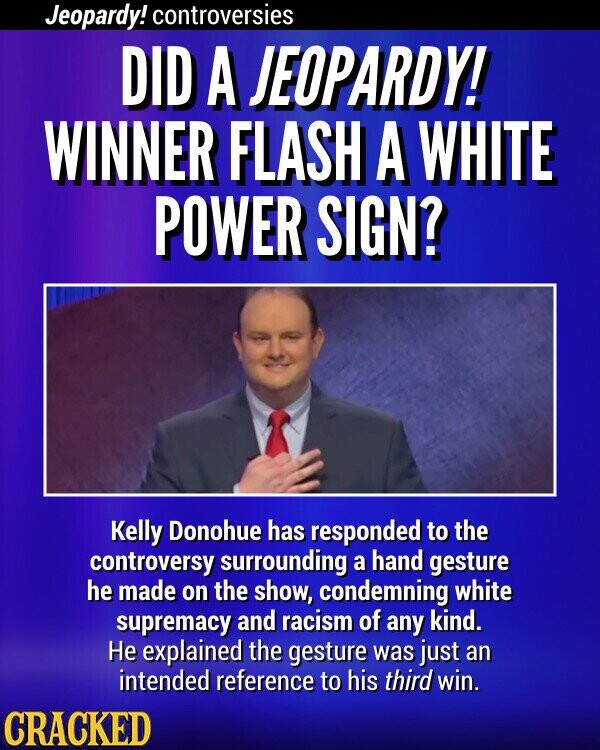 'Jeopardy!'s timing raised questions about its sensitivity to geopolitical events.
'Jeopardy!' host Mike Richards' tenure ends in a buzzer-worthy controversy.
'Jeopardy!' producers apologize for West Bank controversy.
'Jeopardy!' faces a family's fury after an ill-advised clue.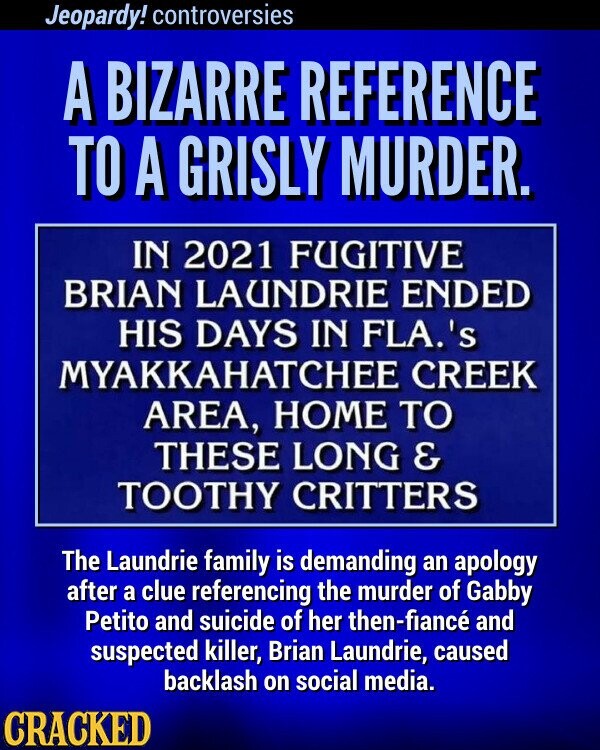 Ken Jennings apologizes for his past insensitive tweets—but will 'Jeopardy!' fans forgive him?
'Jeopardy!' faces backlash after a controversial clue about POTS.
Can you accept that 'Jeopardy!' controversies are determined by a "judgment call"?
Can you read Emmett's handwriting? Controversy ensues on 'Jeopardy!'
Who is Mike Richards, 'Jeopardy!'s controversial new host?
After 'Jeopardy!' rejection, LeVar Burton hit the 'Trivial Pursuit' board game.
Blazer blunder: Mayim Bialik responds to the 'Jeopardy!' controversy.
Fans fume as 'Jeopardy!' cites the King James Version after controversial Tournament of Champions ruling.
Co-host Mayim Bialik stirs up online controversy -- but was it her fault?