15 Marketing Campaigns That Caused Death And Ruin
From deadly contests to poisonous products, this list has it all. So sit back, relax, and enjoy as I regale you with tales of corporate woe.
First up is the Noid. The Noid was a short-lived mascot for Domino's Pizza who met an untimely end at the hands of a crazed fan. In 1986, Domino's Pizza introduced an advertising campaign featuring the "Noid", an anthropomorphic creature. The ads ran until 1989, when one Kenneth Noid took two employees hostage at gunpoint in protest of what he believed was harassment from the company.
Next on our list is Camel cigarettes. If you want a cigarette that will kill you slowly but surely, Camel is definitely the brand for you! For years tobacco companies have relied on doctor's endorsements to sell their products - giving way to decades of health concerns down the line. And speaking of doctors... did you know that X-rays were once used to help people pick out shoes? That's right - before we knew about things like radiation poisoning, shoe store clerks would zap customers with x-rays in order to help them find the perfect fit.
The next time you eat your favorite sugary snack, remember that the sugar industry has been lying to you for decades.
"Get your DDT today, and be sure to use it generously!"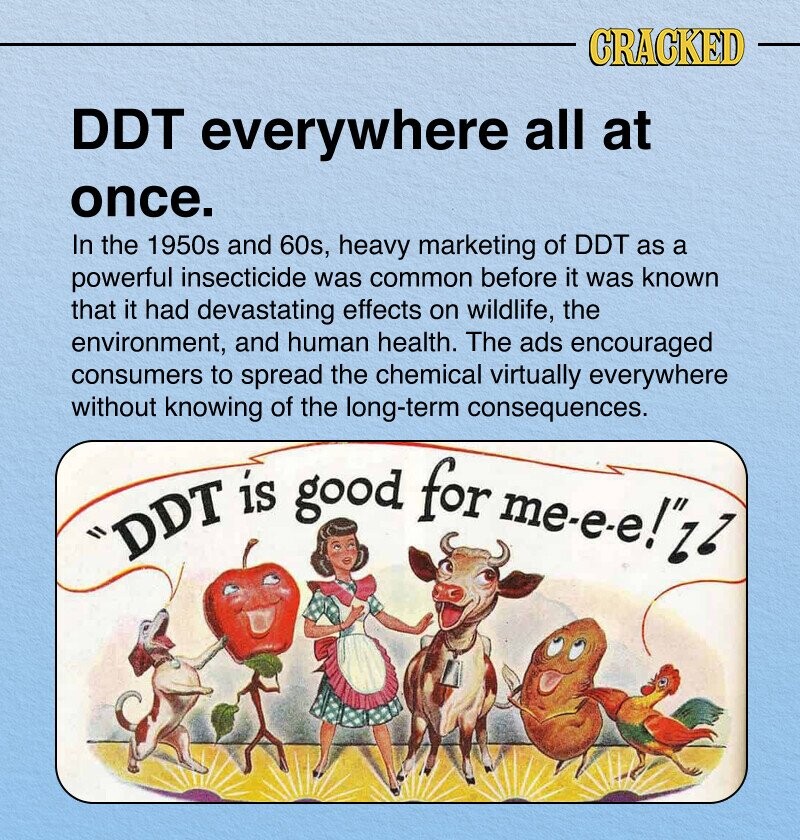 Cellophane may be hazardous to your child's health.
"Lysol: a gentle feminine hygiene product... that will kill you."
"Parents, are you giving your kids a soft drink with no nutritional value?"
The paint companies knew the dangers of their product, but they didn't care as long as they were making money.
A weight-loss solution in the early 1900s led to severe malnutrition and death in many cases.
ASKfm killed one of four men hired to scale Mount Everest and bury two cryptocurrency wallets as part of a publicity stunt.
Marketing: 1; American Teens: 0.
KDND's "Hold Your Wee for a Wii" contest takes a tragic turn.
"Number Fever" seemed like a great idea at the time.
Domino's Pizza: we'll get there, even if it kills someone.
The Shoe-Fitting Fluoroscope: Because who doesn't love a little extra radiation with their new shoes?
If you want a cigarette that will kill you slowly, efficiently, and with the approval of your peers, Camel is the brand for you.