20 Facts That Really Took Us To The Mat
Did you know that dogs and humans love each other in the same way? It's true! And not only do we feel deep unconditional love for our furry friends, but looking at them also releases oxytocin in our brains. Oxytocin is sometimes called the "love hormone" because it triggers feelings of protection and attachment. So next time your dog is giving you those big puppy eyes, rest assured that they really are full of love! And hey, speaking of love and devotion, did you know there's a cult dedicated to Gadget Hackwrench from Rescue Rangers? That's right, this intrepid female mouse has inspired an international group of devotees who pray to her posters, sing songs about her greatness, and stick stickers bearing her likeness all over the place. Did you also know that when women first started applying to be astronauts, NASA was worried about one very important detail: their periods. Yep, officials were concerned that feminine hygiene products wouldn't work properly in space and a woman could literally bleed to death while on a mission. Thankfully cooler heads prevailed, and menstruating astronauts no longer pose problems for NASA.
Ninjas didn't wear masks.
Frank Biondo has been a camera operator on Sesame Street since the beginning.
People would drunk dial Hanna-Barbera studios to ask about the Flintstones.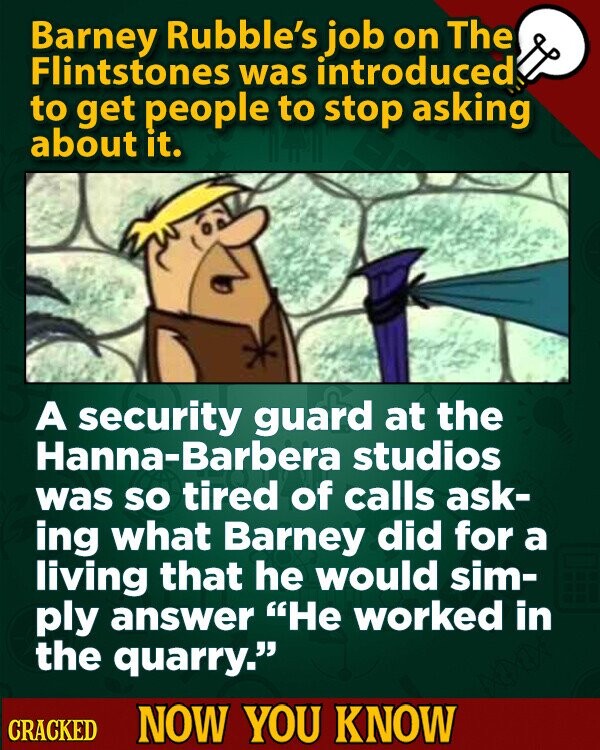 Warner Bros rebooted Superman specifically without regard to a Batman and Superman movie.
There is a lot of water on the planet older than the sun.
Aerosmith's guitarist sold his guitar and it wound up in Slash's hands.
A German man went kayaking in 1932 and didn't realize a world war had started.
There's A Scientific Reason Why We Always Have Room For Dessert.
A flute made from the femur of a bear was made 43,000 years ago.
Nuclear Semiotics is meant to convey messages after all current human languages have disappeared.
George Michael doesn't understand the success of "Careless Whisper."
DJ Khaled's baby son was the executive producer of one of his albums.
A cult worships Gadget from Rescue Rangers.